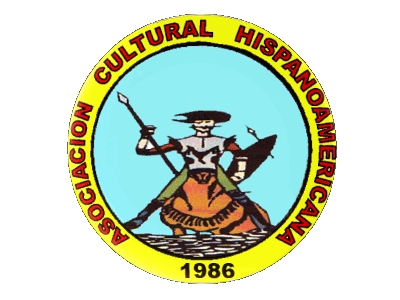 Asociación Cultural Hispanoamericana
P.O. Box 3203 Augusta - GA - 30914
acha@elcervantino.org
Phone: 706-250-0040

Welcome to our page
Organization Overview
The Asociación Cultural Hispanoamericana de la CSRA was founded and incorporated in the city of Augusta, the state of Georgia, on the 10th day of April of 1986 and since then has been referred with the acronym of ACHA. The organization is, by character, a cultural and familial association, non-profit and organized in accordance with the "Georgia Non-profit Corporate Code". It is a non-political and non-denominational entity.
The objectives of ACHA are to gather within the organization, without discrimination whatsoever, all persons whom may be interested in the language, the culture and the Hispanic traditions; to promote cultural, educational and social development; and to collaborate with other organizations and groups of similar character, in addition to assisting other organizations with the same purpose. Our primary goal is the preservation and promotion of our culture. Everyone is welcome to be a member of ACHA.
Hispanic Festival
Since 1992, ACHA has been the organizing association of the well-known "Hispanic Festival" in Augusta, Georgia in October. Year after year we have put great effort to extend to the community a festival worthy to be celebrated and remembered. It's a festival were the attendees are always delighted by folkloric groups, musical groups, authentic food stands from several Hispanic countries, arts and crafts, activities for children, other attractions for the family and the night dancing.
Scholarships
Since 1998, our organization also has been sponsoring the yearly "ACHA Señorita Latina Contest" during the Hispanic festival where scholarships are awarded to the winners. Contestants must be a high school or university students who demonstrate interest in the Spanish language and the Hispanic culture.
Strengthening bonds of culture and unity
In ACHA, we believe it is important that the community remains united for sharing and maintaining alive the cultural traditions of our countries.




Board Of Directors
2015-2020

Juan Elias Rodríguez
President

Arturo Razo
Vice President and Festival Sponsor Coordinator

Ivelisse Negrón
Secretary and Señorita Latina Contest Coordinator

Vacant
Treasurer

Ricardo Rodríguez
Director of Events

Erika Rodriguez
Director of Community Outreach and Humanities

Federico Alfonso Medina
Director of Membership and Recruitment, and Festival Vendor Coordinator

Francis Medina
Director of Education and Internship Coordinator

Yelitza Maura
Director of Public Relations

Some of the annual activities

Educational Presentations

Members and Executive Board Meetings

Picnic and Outdoor Day

Celebration of the Day of the Spanish Language

Ongoing Beginner and Intermediate Spanish Classes

Arts in the Heart of Augusta

Folkloric Dances

Hispanic Festival of Augusta

Señorita Latina Contest

Community Activities

Latina Exposition

Recognition of Volunteers and Sponsors

Christmas Festivity and Parades



Bienvenidos a nuestra página
Descripción de la organización
La Asociación Cultural Hispanoamericana de la CSRA fue fundada e incorporada en la ciudad de Augusta, Estado de Georgia, el día 10 de abril de 1986 y ha sido referida desde entonces con el acrónimo de ACHA. La organización es una asociación de carácter cultural y familiar, sin fines de lucro y organizada de acuerdo a "The Georgia Non-profit Corporate Code". Es una entidad apolítica y no confesional.
Los objetivos de ACHA son de reunir dentro de la organización, sin discriminación alguna, a todas las personas que estén interesadas en el idioma, la cultura y las tradiciones hispanas; promover el desarrollo cultural, educacional y social, y colaborar con otras organizaciones y grupos de carácter similar, además de ayudar a otras asociaciones que tengan los mismos fines. Nuestro fin primordial es la preservación y difusión de nuestra cultura. Todos son bienvenidos a ser socios de ACHA.
Festival Hispano
Desde el 1992, ACHA ha sido la asociación organizadora del renombrado "Festival Hispano" en Augusta, Georgia en octubre. Años tras años hemos puesto un gran esfuerzo para extender a la comunidad un festival digno de celebrarse y recordarse. Es un festival en donde los presentes siempre disfrutan de grupos folklóricos, grupos musicales, puestos de comida auténtica de varios países hispanos, artesanías, actividades para los niños, otras atracciones para toda la familia y el baile nocturno.
Becas
Desde el 1998, nuestra organización igualmente ha estado auspiciando anualmente el "Concurso de Señorita Latina ACHA" durante el festival hispano donde becas son otorgadas a las ganadoras. Las candidatas deben ser estudiantes de escuelas secundarias o universitarias que muestren un interés al idioma español y a la cultura hispana.
Estrechando lazos de cultura y unidad
Como lo sostiene el lema de ACHA, consideramos importante que nuestra comunidad se mantenga unida para compartir y mantener vivas las tradiciones culturales de nuestros países.
ACHA is a 501(c)(3) non-profit organization. Contributions you make to us are deductible under section 170 of the Code.

We are also qualified to receive tax deductible bequests, devises, transfers or gifts under section 2055, 2106 or 2522 of the Code.

Federal Identification Number: 58-1949395
State of Georgia Control Number: J711930

ACHA Señorita Latina Facebook Page
Link